Born 5/1/1998- Passed 5/15/2015
She needs no introduction, but here she is the lovely, the charming, the cuddly, the brilliant, the creative and the curious Misty! Also known as: Mister Stinky, Mister Stinker, Mister Stink, Fattyboomalatty, Silky Satin Velvet Misty, Booshka, and most commonly called, the notorious 'Kitty'. She likes this one best of all. It makes her weak in the knees and piddle in a rolled up ball on the couch. She actually shivers with the syllables and winks repeatedly waiting to be pet, as soon comes thereafter her hearing the word "Kitty" uttered from his lips. Whatever you call her, just be sure to call her…and not late for supper.
"Hi, my name's Misty. Among other responsibilities, I'm EstateSalesHelp's official appraiser of animal figurines with a special emphasis on dogs. While cat figurines seem like a silly idea, I appraise them as well. By the way, look for cat figurines as they are always cheaper. While I'm always on call, Jen utilizes my varied skills mainly in helping them ready your estate for sale to the public. I sniff out hidden treasures, claw my way through closets full of shoes, use my cute tail to point out bird figurines, while using my teeth to extract goodies hidden under beds and sofas. By the time the sale starts I'm exhausted and the floors in your house are well-dusted. I'm not good with money so don't expect to see me at the checkout. I'll be home resting and taking calls from dogs and cats needing a new home."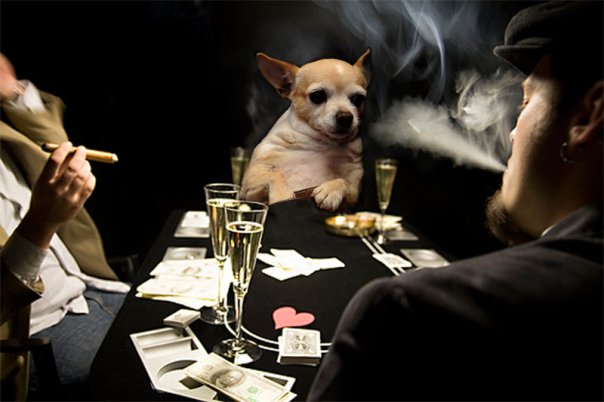 One of the great benefits of working for Jen at EstateSalesHelp.com is I have an opportunity to add to my expanding wardrobe of fine fashions and costumes required for my other occupation, that of "mystery" pet at children's birthday parties. Upon receiving a call from a frenzied parent seeking a last minute "mystery" pet appearance at their child's birthday party, I have to be ready on a moment's notice. Generally, such calls come in because the traditional birthday bird is sick and cannot appear. By this time the worried parents will settle for just about any animal available. Yet, halfway through the conversation they generally get picky and want a specific animal to replace birthday bird.
To capture 100% of the "mystery" pet market, I use my wardrobe to disguise myself as any pet requested. Of course, the idea here is to confuse and confound these small, innocent children. For example, upon arrival at a recent birthday party of 23 screaming and out-of-control kids I arrived as a cute kitten. Immediately this batch of marauders quieted down and surrounded me, oohing and awhhing in their tender little voices. As they bent down in unison to pet me, I threw off my kitty costume and began snarling and barking, while bearing my teeth. It is always so thrilling to watch as they jump back in horror and begin screaming and running for their mothers. Generally, after all the yelling and screaming subsides, I'm the hit of the party.
All this fun is possible because of the neat costumes I find while helping Jen ready their clients' homes for an estate sale. Just the other day I managed to find an old turtle costume tucked away in the attic. I'm still trying to figure out why that family had a turtle costume. But imagine the neat stuff you can find and buy at the estate sales held by estatesaleshelp.com.